| | |
| --- | --- |
| Zaturn Slimed with Green UV Slime | |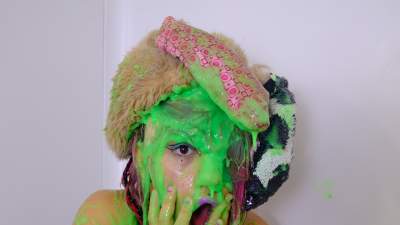 Starring the following model:
| | |
| --- | --- |
| File count: | 2 |
| Total size: | 1.01 GB |
| Runtime: | 29 mins, 59 secs |
| Released: | 8/09/18 |
| Views: | 2614 |
| Scene ID: | 29789 |

$18.69



Zaturn is back with MessyHot to have her fist slime experience. Her first messy experience was with cake, and after seeing the slime I'd been experimenting with decided she had to give it a shot. She hopped in the tub with her stuffed animal friend and an adorable fuzzy hat and decided she needed to destroy it all with some slime.

Cautiously feeling out the texture of the slime she can't control her giggles over how nifty it is. The fist slime pour she applies to herself, coursing it down the front of her body and insists that its so warm it feels like "slime cum." Without regard to the safety of her unicorn plush or clothing, she continues the coverage. Knowing how much everybody enjoys facial coverage, Zaturn gives a nice pour over her face, mouth wide open, and then gets some nice ass-coverage directly over her skin-tight shorts. Turning around for a major slime-job, our model shoves her head directly into the bucket, losing her hat and covering her face and hair in bright green slime.

Wanting to show off some skin, Zaturn pulls off her now ultra messy and saturated clothing, stopping with just her translucent panties, and begins filling them, from in back and in front with cupfuls of sticky goo. Giving herself a couple of wedgies, she then shows how she has discovered she loves to condition her ultra-thick bush with green slime. We decide that she needs a big full facial coverage and she kneels down taking a shot in the face, which we show in nice picture-in-picture slow motion so you can see the full explosion. A second rapid-fire full-bucket pour ensures complete facial destruction. Zaturn is a model who always likes to take it to the limit, and telling us she heard that slime can function as lube, she lubes up a cute glass butt plug with the mess and slides it home, gasping about the intensity of the sensation. With the plug in place, we switch into rave mode and flip on the black lights. Turning around she shows off how great the plug looks peeking through the slime with the UV glow going on. Our slime helper gives her another load of bootie slime, this time in full glowy goodness. After flopping around in the slime she decides to get dressed again, sliding the clothes on over the gunge. Flipping back into normal light, we go for a full facial destruction. She takes an entire bucket of slime right to the kisser, getting mouthfuls of the stuff and blowing bubbles, this event caught once more with picture-in-picture slow motion. but wait there's more!

not satisfied with the mess created, we go to town on her with some shave cream too, unloading multiple cans of the stuff onto this already messy model.

Zaturn lays down in the tub, rolling around and flopping, covering herself and her plush friend with the now minty green slime and foam. The mess monster she becomes is hardly recognizable. Finally she laments, "Oh fuck, now I have to clean up"
Includes these files:
tripship_slime_messyhot.mp4

1280x720

4,656 Kbps

998.7 MB

30.0 minutes
zaturn_green_slime.zip

1920x1280

42 photos

38.66 MB

sizes may vary
Free picture gallery:

Report