| | |
| --- | --- |
| Bella Glass Toy and Cake for My Birthday | |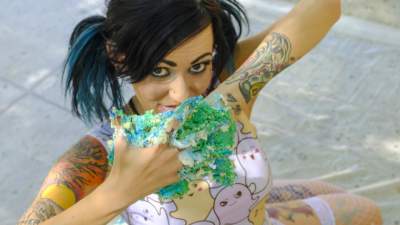 Starring the following model:
| | |
| --- | --- |
| File count: | 2 |
| Total size: | 913.09 MB |
| Runtime: | 24 mins, 32 secs |
| Released: | 9/14/17 |
| Views: | 8201 |
| Scene ID: | 24472 |

$16.69



Bratty Bella came to see me for my birthday and decided she wanted to make an extra naughty cake video to help celebrate. Since she's vegan we have been trying to make each shoot more vegan friendly and this time everything except for the cake/cupcakes was actually vegan-compatible. We start the shoot wiht her in her super cute snapchat dress, garters and stockings, with her mess making already begun with the clothes still on! Without even bothering to strip down first, she twerks a bit and then sits directly into the cake then twerks some more sending mess flying all over. Wanting to explore texture a bit, she smears cake and frosting all over her fishnets, and then wanting more mobility, peels off her dress. Still clad in bra and panties with her garters and stockings, she quips "and the art begins" while applying frosting to herself and her clothing. She wants to take things to the fully naked level and strips her bra and panties, but on my suggestion, keeps the garters and stockings on for the remainder of the shoot. With nearly full bottom-half coverage of frosting, she pours some sprinkles over her ass and then twerks them off, which true to our usual form, is caught in slow motion as well. Standing up to shake some more off, Bella grabs the corn syrup and covers her chest and ass in shiny goop. We take a turn for the extremely naughty next, as she whips out her glass dildo and sits back to pleasure herself with it, using frosting as lube. We mutually decided that the sound it's making is definitely what the definition of "sploshing" is. She masturbates with the toy from multiple angles, but gets a desire to be even messier, and so moves on to some blueberry pie filling. She coats her feet in the sticky compote and then massages them, rubbing it into the fishnets as well. With her entire body covered in sticky messy goodness, we decide to move on to the cupcake tossing and she bends over, letting me pelt her on and between the cheeks with a relentless dessert barrage. Without doubt some of the cupcake impacts are slow motion as well. Not wanting to leave our feet and/or I love Lucy fans out, we had a bunch of delicious green grapes that she stomped all over, smashing under her still stocking-clad feet. The sounds of the grapes exploding under her are simply irresistible. After writing "Cum Slut" on herself in white icing, we move on to the MessyHot finisher and give her the condensed milk facial... the secret being that using a special recipe using coconut milk, sugar and some preparation, she had concocted vegan condensed milk!
Includes these files:
bella_naughty_bday.zip

1920x1280

65 photos

97.71 MB

sizes may vary
bella_naughty_bday_cake.mp4

1280x720

4,643 Kbps

815.38 MB

24.5 minutes

Report
* Promo refers only to
MessyHot
's scenes.