| | |
| --- | --- |
| LumChan Flashing and Cake Porn on a Malibu Beach | |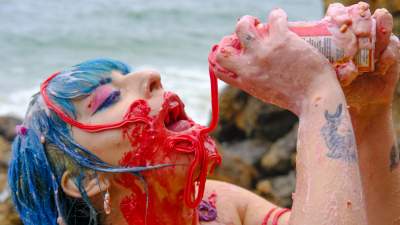 Starring the following model:
| | |
| --- | --- |
| File count: | 3 |
| Total size: | 1.17 GB |
| Runtime: | 24 mins, 47 secs |
| Released: | 6/21/17 |
| Produced: | 2017 |
| Views: | 4595 |
| Scene ID: | 23198 |

$17.69



LumChan and I got together for our very first cakeporn experience. We did some shopping for all of the messy gear in a local grocery store and picked up everything we needed. Of course being a true exhibitionist, she made it a point to take off her panties and bra in the store and did plenty of showing off while we shopped, and made sure a few other shoppers caught glimpses. Once stocked up on supplies, we headed to the beach. LumChan fills us in on the fact that she is actually into messy play and that's why she wanted to work with me. During a chat before the shoot she mentioned that she was excited to find out that this was something other people are into, because it was something she usually did when she was alone and horny!

We grabbed some stills and then she stripped down and sat in the lovely strawberry cake we had with us. We get a frontal and rear view as she mercilessly mashes it about. Her green/blue hair matched the environment and ocean backdrop perfectly. Another photographer showed up to take photos on the other side of the rock, and we had several passers-by but they didnt seem to mind. She said her favorite messy substance was ice cream so of course she got some of that out and began messing herself and stuffing her face with it too, and then slimed her butt with it making sure to rub it in really good. Taking inspiration from earlier shoots we play some chubby bunny too!

Lots of fans have asked for more hair messing, so she pulls out her pigtails and shampoos her hair with the rainbow sherbet ice cream! With her hair a mess she starts stuffing her mouth with marshmallows and cookies, drooling out the parts that she can't chew and swallow in time. Next up is red icing time and she uses the can to decorate her face. The smiles and soft moans are more than sufficient to tell this is exactly the kind of activity this beautiful lady enjoys. After the walk along the beach of course a foot massage with frosting was called for too and she quickly ate the frosting off her toes!

Marshmallow fluff is super sticky and she showed off just how it could be used for body art too! We did some fun sprinkle spitting and whipped cream spanking which were caught in glorious slow motion. Nearing the end we do some cupcake throwing, and I have the honor of tossing some cupcakes at her perfectly shaped ass, of course catching that in slow mo too! Cupcakes depleted, she puts her panties back on and gives herself a massive messy wedgie after filling them with icing, frosting, cake and other goop. We of course wrap up the scene in true messyhot fashion with a pie to the face and a condensed milk facial!
Includes these files:
lumchan_beachcake.zip

1920x1280

125 photos

85.13 MB

sizes may vary
lumchan_first_cake_beach.mp4

1280x720

4,666 Kbps

592 MB

17.7 minutes
lumchan_first_cake_shopping.mp4

1920x1080

10,223 Kbps

515.95 MB

7.1 minutes

Report