| | |
| --- | --- |
| LumChan Returns to the Abandoned Zoo Cake Porn | |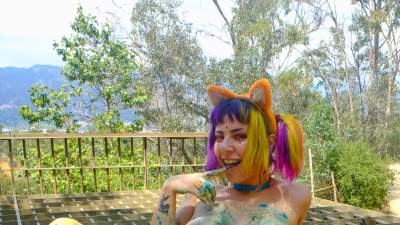 Starring the following model:
| | |
| --- | --- |
| File count: | 2 |
| Total size: | 882.89 MB |
| Runtime: | 24 mins, 55 secs |
| Released: | 9/13/18 |
| Produced: | 2018 |
| Views: | 2265 |
| Scene ID: | 30412 |

$15.69



Lum and I shot at the abandoned zoo in Los Angeles for her second messy shoot ever and, after hearing that she and I were nominated for an AltPorn.net award (which we won!) I headed out to Los Angeles to go to the ceremony and we decided to produce another scene while I was there! Wanting to recreate the magic, we returned to the scene of the crime. There were plenty of hikers going by that day, some of whom caught an eye-full.

It was a bit toasty and so Lum stripped down pretty quickly. Once fully uncovered, she took her cake on top of the cage enclosure and planted her ass in the cake, making sure to squish it extra well. She does it facing, then facing away from the camera. After taking a taste of the frosting, she stands up and squishes the remainder of the cake under her feet and between her toes. With the cake dispatched, Lum moves on to whipped cream, covering her ass with it then shaking about. Not quite done, she covers more of her body, and then begins drawing on herself with icing in a spray can. It is quite obvious that being messy is actually one of her personal kinks as she embraces the mess completely. Needing to add a bit more color to our sloppy situation, Lum grabs some sprinkles and covers herself top top bottom with them and then covers her butt and shakes it about before moving on to boysenberry syrup and marshmallow fluff. This is one girl who definitely gets a thrill from being covered in sticky goop, but also showing it off in a public place.

After all of the opaque goodies, Lum is ready to get shiny and so covers herself with corn syrup, knowing that it'll make the sprinkles stick well. Lum gets super excited about it being time for a messy wedgie and pulls her panties over her already messy body and begins to fill them with all of the goodies she can from pudding to whipped cream, fruit filling and everything in between before taking a stance and yanking her undies skyward, cramming all of the messy materials, along with the bright red fabric, directly between her fabulous ass cheeks. Lum however, isn't one to leave a task half finished, and so fills the front of her bottoms and repeats the motion from the other side. With wedgie time passed, Lum drops to her knees and bends over, fully exposing herself to the camera in the most vulnerable position possible, and asks me nicely to begin the cupcake tossing. My aim is pretty on point this time and I land some real winners on her. With the cupcake mess over, she pours more syrup over her body and then asks me to blast her in the face with a pie. With the shoot drawing to a close, we wrap the scene in true MessyHot fashion, with a frosting facial, which is also caught in slow motion.
Includes these files:
lum_abandoned_zoo_2.mp4

1280x720

4,641 Kbps

827.6 MB

24.9 minutes
lum_second_zoo.zip

Zip file

55.29 MB

Report